The Chairman of the Constitutional Council Kairat Mami met with the President of the Constitutional Court of the Republic of Turkey, Prof. Dr. Zühtü Arslan.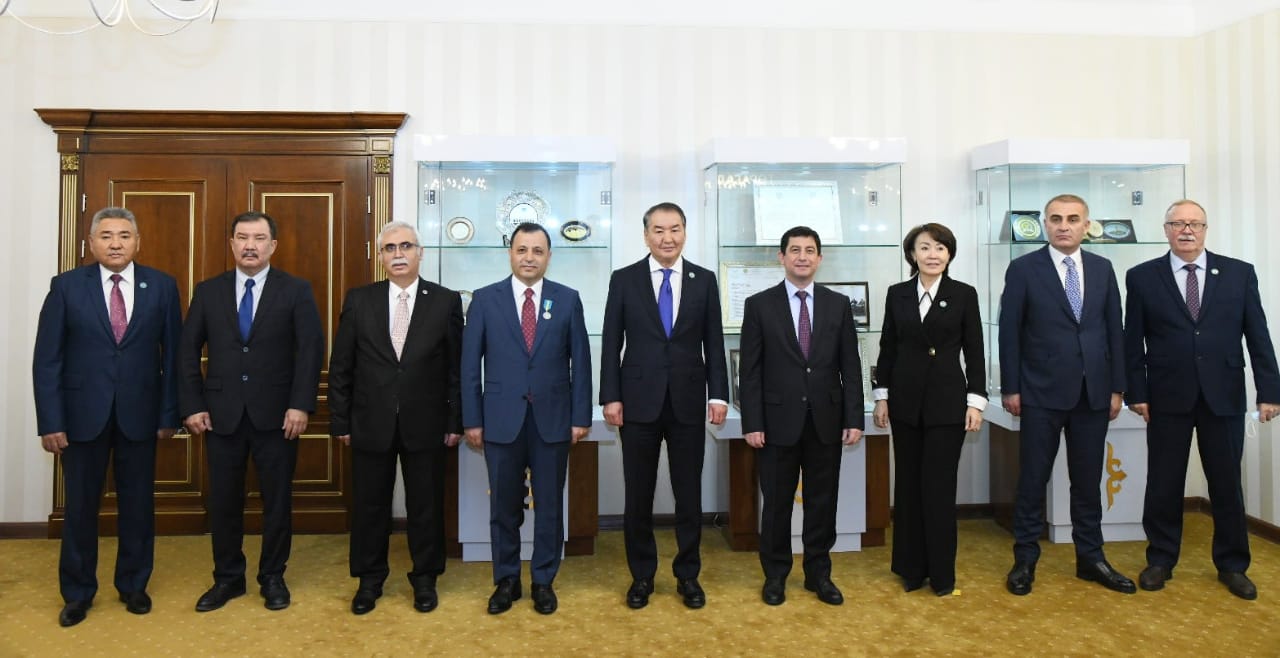 It was held within the framework of the official visit of the Turkish delegation in accordance with the Memorandum of Cooperation between the constitutional review bodies of the two countries.
During the conversation, the parties especially noted the cooperation between Kazakhstan and Turkey in the legal sphere.
"During these years, fruitful cooperation has been established between the Constitutional Council of Kazakhstan and the Constitutional Court of Turkey. It develops both on a bilateral and multilateral basis, and serves to ensure the supremacy of the Constitution," Mr. Kairat Mami said.
Following the bilateral meeting of the Chairmen, the discussions continued in an expanded format with the participation of the Constitutional Council's members and judges of the Constitutional Court of Turkey. The delegation of the latter also included Vice-President Mr. Kadir Özkaya, JusticeMr. İrfan Fidan, Head of the Office of the President Mr. OrhanYaliniz and Ambassador Extraordinary and Plenipotentiary of Turkey to the Republic of Kazakhstan Mr. UfukEkici.
The guests were familiarized with the activities of the Kazakhstan's constitutional reviewbody. Colleagues exchanged knowledge and experience on topical issues of modern constitutional and legal development.
Special attention was paid to the further development of the Association of Asian Constitutional Courts and Equivalent Institutions. The Head of the Turkish delegation focused on the successful Presidency of the Constitutional Council of Kazakhstan in this organization in 2019-2021.
One of the permanent Secretariats of the Asian Association is the Center for Training and Human Resources Development, based in the Constitutional Court of Turkey. Under its leadership, international symposiums and summer school programs are annually held, with Kazakh representatives participating as well.
Turkish constitutionalists congratulated the people of Kazakhstan on the 30th anniversary of the Republic's Independence.
Following the meeting, Kairat Mami presented Prof. Dr. ZühtüArslan with the jubilee medal «ҚазақстанКонституциясына 25 жыл» («25 years of the Constitution of Kazakhstan»), which he was awarded by the Decree of the President of the Republic of Kazakhstan for his significant contribution to the implementation of constitutional values.
Summing up, the Chairman of the Constitutional Council Kairat Mami stressed that this meeting was a clear testimony to the effective interaction between the constitutional justice bodies of our countries, based on the spirit of friendship and cooperation.
The parties expressed confidence in the successful continuation of cooperation in the field of establishing the principles of the rule of law.
Postfactum.kz